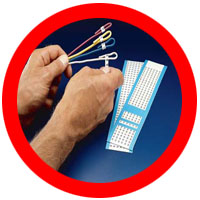 Handi-Cards

Handi-Cards are easy release markers on a plastic card. They feature a strong adhesive which assures a long lasting bond on wire. Permanent, pre-printed legends are available in solid or sequence order.





PVC MityMark® Compact Disk Markers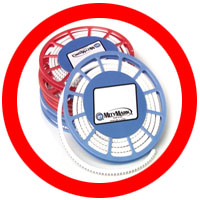 The MityMark™ compact Disk marker System features 500 PVC sleeve wire markers packaged on a convenient reel for ease of use. Each sleeve marker is 3mm in length with a single black stamped character on each marker. Each marker is chevron cut to assure proper positioning as multiple markers are applied. Standard marker color is white, with yellow available upon request. The MityMark Compact Disk Markers are available in two sizes to accommodate 16-10 wire gauge (.098 -.196 in.) and 22-16 (.051 - .118 in).

Please call for more information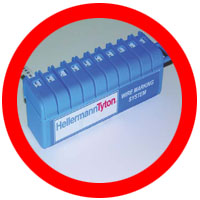 Wire Marker Tape

The wire marker tape dispenser provides a convenient, economical system for wire marking. HellermannTyton's wire marker tape features sharp, crisp legends which are coated to resist smearing and abrasion. It is provided on a carrier strip to prevent contamination of the adhesive prior to installation, assuring permanent, non-flagging marker ends.