Rite-On (Write on) self-laminating wire labels
Our Rite-On Markers are made from a flexible vinyl film and are used to mark wire and cable. The self laminating labels have a clear tail which seals the legend under clear vinyl, maintaining the quality of the labels. The Rite- On markers are packaged in a reusable dispenser made from high impact plastic which is resistant to oils and grease.

Product Features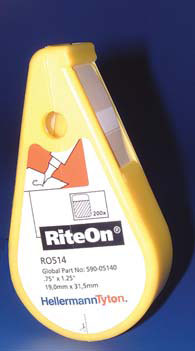 - Easily and conveniently fits in a pants or shirt pocket.
- Once loaded, unit allows minimal label exposure to dust and moisture.
- Can be used with standard ball point pens or any permanent marker.
- Excess liner is easily cut-off by tearing it over the edge guide at the front of the unit.
- The dispenser can be reloaded over and over again, making it a cost-effective and efficient method of labeling.


| | | | | |
| --- | --- | --- | --- | --- |
| | | | | |
| A special label window holds the label firm for easy marking. | | Can be held easily in the palm of the hand to provide a flat writing surface. | | Label dispenses automatically when the liner is pulled from the front of the unit. |
Part No.

Width
in. (mm)

Height of Marking Area
in. (mm)

Height of Label
in. (mm)
Qty.
Per
Roll
*Price Level 1
1 to 4 Pkgs.
Price Level 2
5 to 9 Pkgs.

Price Level 3
10 or more

RO101

.75 ″ (19.05)

.875 ″ (22.22)

6.0 ″ (152.40)

40

RO175

.75 ″ (19.05)

.75 ″ (19.05)

3.0 ″ (76.2)

90

RO512

.75 ″ (19.05)

.50 ″ (12.7)

1.875 ″ (47.62)

150

RO514

.75 ″ (19.05)

.375 ″ (9.52)

1.25 ″ (31.75)

200

101REF

.75 ″ (19.05)

1.53″ (38.90)

6.0 ″ (152.40)

40

175REF

.75 ″ (19.05)

.75 ″ (19.05)

3.0 ″ (76.2)

90

512REF

.75 ″ (19.05)

.50 ″ (12.7)

1.875 ″ (47.62)

150

514REF

.75 ″ (19.05)

.375 ″ (9.52)

1.25 ″ (31.75)

200