TT320SM Printer
The HellermannTyton TT320SM printer is a thermal transfer printing system designed for medium to low volume users of HellermannTyton thermal transfer labels and ShrinkTrak. The 300 dot per inch resolution allows for printing of smooth scalable graphics and highly defined characters. With fast printing and little waste, the TT320SM performance allows for time and labor savings.

Product Features
- 300 dots per inch thermal transfer printer
- Print speed of 1" to 2" per second. (print speeds of up to 4" per second are possible when using the TT320SM printer with HellermannTyton's new Tagprint V2.0 label printing software)
- Prints label lengths up to 11" & 10" with standard memory
- 512K SRAM / 1 MB Flash RAM standard - Upgradable to 1MB SRAM
- Easy-to-load label and ribbon path
- Sturdy metal enclosure
- Internal rewinder standard
- Printer is not supplied with ribbons. Order ribbons separately.
- HellermannTyton labels must be fed through a slot in rear panel of printer from CADDY5.0
Printing
- Direct thermal or thermal transfer printing
- Selectable print speeds of 1" to 2" per second
- TT320SM: 300 dpi (dots per inch) print resolution
- IPHC (Intelligent Print Head Control) for high quality printing in all orientations
- Maximum print width: 4.09
- Printable thickness (including liner): 0.0003" to 0.0100"
Communications
- RS-232 Serial
- Bi-directional Centronics Parallel
- USB (V1.1)*
- Reflective and Transmissive Media Sensors
- Auto detectable 90-265 VAC power supply
- FCC, CE, VCCI, C-TIC, CB, VL, NOM, CCC
- Meets FCC Class A and VDE Class B emission standards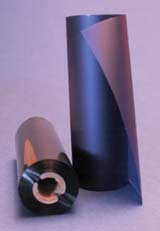 TT320SM Thermal Transfer Ribbons
Due to various settings in printers, the different label types and variations in ribbons, each material must have its own specific ribbon. For instance, when ordering HellermannTyton 822 material labels, please specify and use the ribbon that is configured for the 822 stock. In this case, it would be the TT822 ribbon. In addition, this ribbon must be used to have the Underwriters Laboratories recognized mark on the 822 material.*