Heat Shrinkable Tubing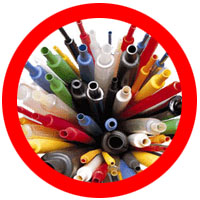 Our heat shrink tubing line is available in several shrink ratios and material types, with various properties, including flame retardency, low temperature recovery grades, wire marking compounds and zero halogen materials. Environmentally sealing adhesives are available for most thin wall products. Sizes range from 3/64" (1.2mm) to 4" (102mm) and are available in a large variety of colors.

Click here for more information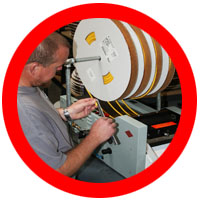 Bulk Cut Tubing & Sleeving

Do you need your heat shrink tubing and sleeving supplied to you in pre-cut lenths? Well, look no further! Cable Markers company has been providing our customers with bulk cut tubing and sleeving since we purchased our first cutting machine over 30 years ago. Since then, we've upgraded our cutting capabilities with today's most advanced tubing and sleeving cutting machines. This allows us to quickly, easily and accurately supply you with pre-cut peices when you need them. Save time and money by ordering your bulk cutting requirements from us today!

Please call for more information


Custom Printed Heat Shrink Markers

Ordering heat shrinkable wire markers has never been easier and more cost effective. Why buy expensive printing equipment to make wire markers, when you can order them from us today, and have them tomorrow?

Cable Markers Company has been in the wire marker business since 1960. We've pioneered many of the processes used in our industry today.

Depending on your job requirements, we will either produce hot stamped or thermal transfer printed shrink markers. Both meet Mil-Spec standard MIL-M-81531 (SAEAS81531) for mark permanence. Your products are important to you, so order your shrink markers from the identification experts!


Click here for more information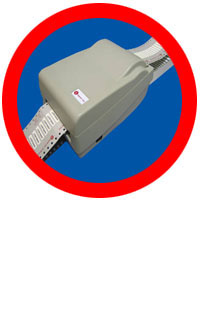 AWMS (Advanced Wire Marking System)

PRACTICAL APPLICATIONS
The Advanced Wire Marking System produces sleeves and tags for the easy identification of electrical wire, cable, and mechanical tubing of all types. These sleeves and tags are not only permanent, but they are also economical to generate in-house on an asneeded basis.

DURABLE PRODUCT
The products are manufactured from cross-linked polyolefin, a flame retardant material that will tolerate exposure to temperatures up to 135°C. The sleeves conform to AMS-DTL 23053/5, Class 1 & 3 for material and functional requirements. The tags conform to AMS-DTL 23053/6, Class 1 for material and functional requirements. Furthermore, they are resistant to common fluids, lubricants and solvents. Once printed, the sleeves and tags are ready for installation without any additional treatment.

Click here for more information


ShrinkTrak Heat Shrinkable Markers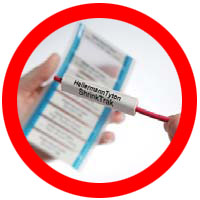 ShrinkTrak™ heat shrinkable wire markers make it easy to mark wire, cable, and other components.

These ladder-style markers are designed with side slits for easier application. All ShrinkTrak™ markers are military specified. They also reduce printer jams with their efficient and high performance design. For seamless labeling, ShrinkTrak™ can be printed using TagPrint Pro™ professional label creation software along with our line of thermal transfer printers and ribbons. Create a permanent, solvent resistant print when shrunk and applied.


Click here for more information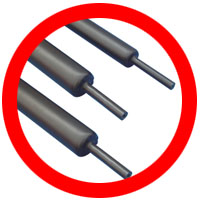 Medium Wall, Heavy Wall, and High Shrink Ratio Tubing

Medium/Heavy Wall Heat Shrinkable tubing possesses excellent insulating, environmental sealing, and impact and abrasion resistance properties.

These tubings are used in a variety of general purpose applications to seal and protect electrical connections and terminations and provide excellent mechanical protection.

Cable Markers Company also offers a line of High Shrink Ratio tubing to meet your requirements. Our High Ratio Shrink tubing accommodates extreme differences between cables, connectors and backshells. Shrink up to a 6:1 shrink ratio with our tubing!

Please call for more information


Braided Sleeving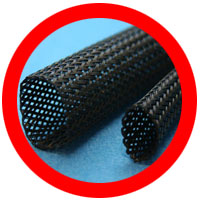 Expandable sleeving is commonly used over wires, wire bundles and harnesses, cable assemblies, flat ribbon cable, tubing and hoses where it provides a tough, durable protection. The open weave construction allows for complete drainage, prevents condensation and provides for dissipation of heat and moisture. It's excellent chemical resistance permits its use in harsh fluid environments including oils, salt water, fuels, most common cleaners and solvents and many chemicals. Its flexing capability makes the product ideal for application in machine tools, automatic equipment and robotics where wires and tubes are often required to flex freely during operating cycles.


Click here for more information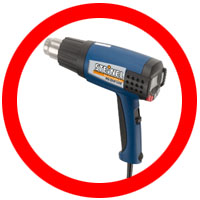 Heat Guns and Accessories

Our line of heat guns are designed and constructed to provide our customers with dependable, cost-effective ways to apply heat properly for specific jobs. Our heat guns are used for many applications including; drying, heating, welding, shrinking, soldering and de-soldering as well as a variety of other applications.

Along with our heat guns, Cable Markers Company has a large selection of nozzle tips and heat gun accessories to get the job done right.

Click here for more information