Thermal Transfer Printing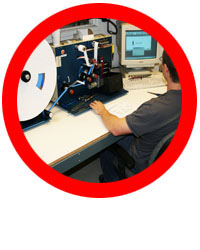 Thermal transfer printing is a process that uses a thermal print-head to apply heat to the surface being marked. Used in conjunction with a heated ribbon, thermal transfer printing produces durable, long lasting, text and images on a wide variety of materials. This allows us to print on many of our identification products including, heat shrink tubing, sleeving, continuous vinyl, ShrinkTrak markers, our line of thermal transfer printable labels and much more.

We use our Windows driven Sumimark, and Tagprint Pro 2.0 label creation software to produce today's most advanced labeling solutions. Having these computerized systems, in house, allows us to quickly, accurately produce labels and markers to your company's detailed specifications. Our printed heat shrink markers meet Mil-Spec standards MIL-M-81531 and SAEAS81531. Depending on the job, Cable Markers Company can ship custom printed orders the same day!



Please call for more information